Resources and programs for patients who have been prescribed Takeda hematology products
Takeda proudly provides a variety of ways to support appropriate adult patients with VWD.
Hematology Support Center (HSC)
When you prescribe a Takeda treatment for your patient, HSC is here to provide them dedicated product support.
At HSC, we know that living with a bleeding disorder looks different for everyone. Whether they've just been diagnosed or have been on treatment for a long time, we get to know your patient. We understand who they are, and we learn what's most important to them—so we can focus on what they specifically need when it comes to their prescribed Takeda therapy. After your patient enrolls in HSC, a Case Manager (CM) will address their questions and concerns and help determine next steps. And as needed, the CM will connect your patient to other HSC specialists. Because HSC is there for your patients at every stage of their Takeda treatment journey.
If you have questions, call HSC at 1-888-229-8379, Monday through Friday, 8:30 AM to 8:00 PM ET.
If English is not your patient's preferred language, we can communicate with them over the phone using a translation
Self-infusion is an option
Hematology Support Center (HSC) provides support for self-infusion training
Self-infusion training is available to patients enrolled in Takeda's Hematology Support Center (HSC) who are prescribed a Takeda von Willebrand disease (VWD) therapy. Takeda provides both in-home and virtual self-infusion training through our third-party nurse vendor Specialty Pharmacy Nursing Network, Inc. (SPNN) when authorized by a patient's healthcare provider. Takeda provides this training at no cost to patients enrolled in HSC. In addition, your patient may receive up to 5 training sessions.
To learn more about this service and to provide your authorization for your patient who is enrolled in HSC to receive training, you'll need to download and complete the training authorization form at the link below. If you have any questions, please call 1-888-229-8379, Monday through Friday, 8:30 AM to 8:00 PM ET. Download the Physician Authorization Form for in-home or virtual self-infusion training.
Download authorization form
CoPay assistance program
Takeda's Hematology Support Center (HSC) CoPay Assistance Program can help your patients save on their prescribed Takeda treatment.* The program can cover up to 100% of your patient's out-of-pocket co-pay costs, if they're eligible. To be eligible for this program, your patients must:
Be prescribed a Takeda treatment for a Food and Drug Administration (FDA) approved indication.
Have commercial insurance. This includes Health Insurance Marketplace plans.

Commercial insurance does not include Medicare, Medicaid, Veterans Affairs (VA), or other federal or state health plans

Be enrolled in Takeda's HSC.
Access Support
If an insurance issue arises, Patient Access Managers (PAMs) are insurance experts who will help answer questions about your patient's insurance coverage. PAMs can:
Educate your office about prior authorizations, reauthorizations, and appeals
Walk your patient through the insurance process step by step
Help your patient understand what's covered, what's not, and what to do next
Provide information about options that may help your patient cover their Takeda treatment costs
Educational tools and resources
Living with a bleeding disorder looks different for everyone. At Takeda's Hematology Support Center (HSC) we understand that what your patient needs isn't always what every patient needs.
Our specialists can help your patient understand their condition and Takeda treatment. HSC specialists can connect your patient with community support resources and information. If needed, HSC can also provide your patient with assistance in Spanish.
Free trial program
Takeda's FREEDOM OF CHOICE™ Trial Program provides trial doses of VONVENDI at no cost to eligible and prescribed adult patients with von Willebrand disease. This program is available to new VONVENDI patients only and must be for an approved use.
Patients must work with their healthcare provider and Takeda to participate*
VONVENDI with or without recombinant FVIII is available for 3 doses as a free trial for on-demand and surgery treatment
VONVENDI is available for 8 doses as a free trial for prophylaxis in adults with severe Type 3 VWD receiving on-demand therapy
Download registration form
VONVENDI patient starter kit
Adult patients new to VONVENDI can receive a starter kit at no cost to them. The VONVENDI Patient Starter Kit is filled with useful materials to help start their journey.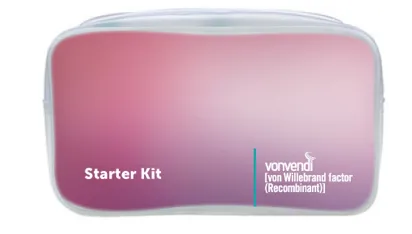 Information and guidance to help navigate:
Your Guide to Using VONVENDI, a step-by-step guide to infusing VONVENDI
A flexible, travel-safe infusion placemat to help patients organize their VONVENDI materials
An infusion supply kit with a tourniquet, alcohol swabs, bandages, and gauze pads
A syringe stabilizer to help patients with VONVENDI dosing when more than one syringe is used
A red towel to help clean up after a bleeding episode
Your patients can sign up to request a starter kit and receive updates about VONVENDI
Help patients sign up